Carefree sewer management, with respect for the planet and the climate!
The THIOTUBE® drainage channel consists of 100 % circular sulphur concrete (=THIOCRETE®), combining the robustness of a classic concrete sewage pipe with the acid-resistant properties of a plastic or ceramic tube. It meets all prescribed functional and technical requirements. The drainage channel is durable, chemically resistant and particularly suitable for waste water. Thanks to the use of CEMENT-FREE sulphur concrete, the impact on the climate and the environment remains extremely low. A circular revolution!
Why choose a THIOTUBE® drainage system?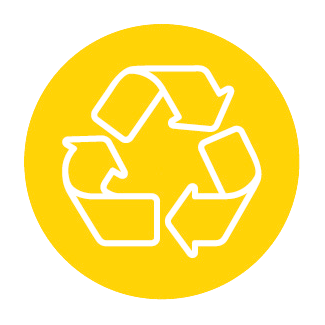 100% circular
Sulphur concrete becomes liquefied again by melting it at 135°C. You can re-melt and reuse it infinitely, without any loss of value. Both the concrete and the other components can be reused again and again in an identical or new application, without sacrificing quality or performance.
No water usage
Not a drop of water is used for the production of sulphur concrete. Neither as raw material nor as process water during production (e.g. for cooling).
Long lifespan
Because sulphur concrete is hydrophobic, and so no water can penetrate it, it is physically very stable. Its acid-resistant and water-repellent character, combined with the material's high mechanical strength (strength class 240), guarantees a very high life span, even in the most extreme conditions.
Low CO2 emissions
The CO2 emissions released during the production of drains and tubes from sulphur concrete are exceptionally low when compared with conventional cement concrete, grès or plastic. A product made of cement concrete emits twice as much CO₂ per ton than a ton of processed sulphur concrete. With grès, it is even four times more.
Harmless to the environment
THIOTUBE® sulfur concrete drainage tubes contain no toxic substances and do not leach out. The various forms of elemental sulphur are also insoluble in cold and hot water and thus do not enter the soil or groundwater. With the THIOTUBE® you choose a sustainable and ecological solution for our drainage system.
High strength
Sulphur concrete is a high-strength concrete that belongs to the highest strength classes on the market. It is highly resistant to alternating loads ('fatigue').
THIOTUBE®
THIOTUBE® drainage channels are among the highest strength classes on the market. For a DN250mm class 240, this corresponds to a crown pressure resistance of 60 kN/m.
The THIOTUBE® channels made from sulphur concrete are acid resistant from pH 0 to 12, the compound from pH 1 to 12, according to the most extreme tests to which sulphur concrete was subjected for 7 years, in the lab and in practice.
To verify its resistance to biogenic sulphuric acid (BZA) attack, the sulphur concrete was subjected to the TAP test (UGent – Labo Magnel – Prof. Dr. Ir. N. De Belie). In this process, disks were continuously rotated and partially immersed in a bath of sulphuric acid for 6 weeks. To simulate a mechanical load, in the same cycle, the specimen was brushed in which the reacted material was removed so that the unaffected material was again exposed to the aggressive environment. This gave a picture of accelerated deterioration. These TAP tests are a reference with regard to testing cements for their resistance to BZA. Materials made of sulphur concrete were tested for the following acids: lactic acid, acetic acid and finally sulphuric acid. No deterioration was observed in any of the exposed discs.
Research centre: Labo Magnel (BE – UGent)
Tested according to: TAP testing Prof. Dr. Ir. Nele De Belie
How does sulphur concrete react with lactic, acetic and sulphuric acids?
Sulphur concrete is hydrophobic and therefore water-repellent. Water absorption fluctuates between 0.2% and 0.5%.
This is very low compared to standard cement concrete where these values are between 3 and 8%. This very low water absorption rate protects the material against the penetration of all kinds of liquids and the degradation processes that can result, such as during thaw/frost cycles. In applications where water absorption is not allowed, this material therefore comes in very handy (e.g. in counterweights for overhead lines of railway tracks).
Testing centre: SGS Intron (NL)
Tested according to: NEN EN 12350-2 : 2000 (water absorption); NEN EN 1339 (thaw/frost cycles)
What is the water absorption difference between sulphur concrete and conventional concrete?
The water repellent effect of a THIOTUBE® drainage channel is clearly visible.
Sulphur concrete was tested for both compressive and tensile strength, dynamic e-modulus and creep (1 year), within a temperature range of 20 to 80°C. This was to check its performance when used in hot environments and contact with liquids at high temperatures, etc.
The tests show that sulphur concrete, with prolonged exposure or peak discharges up to 80°C, still retains 95% of its initial strength. Above 80°C, mechanical properties begin to decline with repeated temperature fluctuations. Occasional higher temperatures are permissible if they are short or transient in nature.
Research centre: SGS Intron (NL)
Tested according to: NEN-EN 12390-3, NEN-EN 12390-6, NEN-EN 1992-1-1
A succession of significant temperature fluctuations does not accelerate material performance degradation. This is shown by tests carried out during cycles of 150 days at temperatures between -20°C and 60°C , combined with relatively high humidity.
Testing performed at fire safety specialist WRF in Ghent, Belgium, shows that sulphur concrete qualifies under fire class A2. This means that the material is practically fireproof. It melts only on the surface. The underlying aggregates do not allow the hot pressure points to penetrate deeper.
Research centre: SGS Intron (NL)
Tested according to: SQD (according to Dutch Building Materials Decree)
What is the impact of a heated (280°C, 405°C and 625°C) metal object weighing 1 kg on a sulphur concrete element?
THIOTUBE® drainage channels and their connection systems are watertight at 1 bar. As sulphur concrete (=THIOCRETE®) does not absorb water, the physical, mechanical and chemical product properties are 100 % preserved.
Research centre: in-house
Tested according to: waterproofing test according to NBN EN 1916
Running wastewater with potentially abrasive material (sand, stones, etc.) can be very demanding on the wall surface of the products used. Abrasion resistance can be measured using the "Darmstadt tilting channel" according to DIN EN 295-3. With this test device, test specimens in the form of a half-tube are filled with water and a certain gravel fraction. Then the specimen is swinged at an angle of 2 x 22.5°, simulating an accelerated abrasion effect in the central zone of the specimen. This motion is repeated up to 400,000 cycles to then measure the abrasion of the wall surface. Sulphur concrete passed this test and shows similar results to concrete, with the thin sulphur skin wearing away in a first phase followed by a second phase in which the presence of the hard aggregates on the released surface strongly inhibits the abrasion. With vitrified clay, the first phase takes longer due to the additional glaze layer applied. However, once this is sanded away, material loss increases faster than with concrete or sulphur concrete.
Research centre: in-house
Tested according to: Darmstad test in compliance with DIN EN 295-3
FREQUENTLY ASKED QUESTIONS
• How are the connections between the pipes realised?
The connection between the pipes is achieved by means of a polypropylene push-in socket on both sides fitted with a rubber (EPDM) seal with integrated shear force protector. This connection meets the watertightness requirement of 1 bar from SB250.
• How are domestic connections realised on the THIOTUBE® sewer system?
The domestic connections can be realised by means of a connection socket mounted in a borehole with a diameter of 168mm. These holes are drilled in the factory and are thus covered by certification.
• What inspection options are available?
THIOTUBE® pipes are compatible with the sophisticated IDEAL access and connection manholes made of self-compacting concrete.
• How should I do with sulphur concrete residues?
THIOCRETE® is 100% circular and should be returned to the manufacturer. They will then reuse it as a primary raw material in the production of new materials.  After all, Thiocrete® is not a waste flow, but rather a primary residual flow. For this reason, avoid disposing of residual sulphur concrete to a crushing plant, whether combined with other rubble or not. Should small quantities still be crushed into rubble by a crushing plant, this does not pose any environmental or human health problems.
• How can I recognise a THIOTUBE® pipe?
The sulphur concrete pipes can be recognised by their distinctive orange polypropylene insert sleeves, which feature THIOTUBE®.
• Why does the THIOTUBE® tube have a separate sleeve?
This insert sleeve fits into the 'design to disassemble' principle, one of the basic principles within the circular economy. It ensures that the different parts can be separated at the end of their life. That means that each component enters its specific recycling programme.
This ensures that material cycles remain closed and materials are reused in their highest possible applications.
• Why is the seal in the sleeve not glued in place?
In a circular economy, it is important that components of different material types can be easily separated from each other. If this cannot be done, pollution occurs in the material cycles.  The EPDM sealing rings are therefore not glued into the sleeves for the sake of recyclability. They should be easily separable from the polypropylene coupling. Unglued seals does not imply any risk during installation. The seals are designed so that, together with the shear force protector and the longer cutting length, they are under compression in the cavity provided for this purpose and thus cannot be moved when the pipes are inserted.
• How are sulphur concrete pipes packaged?
THIOTUBE® pipes with an internal diameter of 250mm are packed on specially provided wooden beams, always in sub-batches of 2 layers, with 3 pipes per layer. Spacers are provided between the pipes. 2 sub-batches can be placed on top of each other during transport. A sub-batch weighs +- 1350 kg.
• Do you need to apply lubricant to the seal on insertion?
Lubricant should always be applied, preferably to the spigot of the pipe, or possibly to the seal in the coupling, if for some reason preferred by the contractor.
• Which quality mark applies to sulphur concrete pipe?
The THIOTUBE® system is Copro-certified as per PTV 823 Part 1 (manholes) and Part 2 (pipes and seals) and PTV 832-1 (rubbers).
• What is the expected service life of the sulphur concrete pipe?
The life expectancy of a THIOTUBE® pipe is very long. THIOCRETE® (circular sulphur concrete) is the result of a physical process in which such a stable and strong cohesion is obtained between the aggregates and the sulphur that the material becomes impregnable. The material is highly chemical resistant (pH 0-12) and hydrophobic (water impermeable and repellent). Years of intensive testing, both in labs and in practice, have shown that, even in the most extreme conditions, the material does not show any degradation. All the physical, chemical and mechanical properties are unchanging over time. We thus have realistic and solid arguments to believe that THIOTUBE® pipes achieve lifetimes that comfortably exceed the lifetimes (financial and operational residual) set by sewer operators.
• Has an LCA been prepared for a sulphur concrete pipe?
An LCA and an EPD have been prepared for the THIOTUBE® system. The details of these may be requested by interested parties.
• Is there an ECI (environmental cost indicator) score for sulphur concrete pipe?
The LCA/EPD of the THIOTUBE® system also includes an ECI score. It is available on request.
• Are there any inspection wells made of sulphur concrete?
There are no inspection wells made of sulphur concrete yet. Currently, THIOTUBE® pipes are only compatible with IDEAL inspection manholes made of traditional self-compacting concrete. These too are designed with minimal environmental impact. In time, De Bonte Group will offer chemically resistant inspection manholes, which will be a combination of a concrete base element with corrosion protection and sulphur concrete attachments.
• What diameters are available within the THIOTUBE® range?
These can be found on this specific product page (link).