100% circular sulphur concrete with respect for our planet and climate
De Bonte Group is constantly looking for innovative solutions. This resulted in the development of a new revolutionary type of concrete called sulphur concrete or THIOCRETE® ('Thio' is sulphur in Greek and 'crete' comes from concrete). In this concrete, cement and water are replaced by sulphur as a binding agent.
This CEMENT-FREE CONCRETE boasts remarkable properties: sulphur concrete is acid-resistant and it combines the robustness of concrete with very low environmental impact and perfect circularity. After all, it can be melted and reused infinitely, with low energy consumption, and has extremely low CO2 emissions.
So the THIOCRETE® – or circular sulphur concrete – applications enable you to contribute further to the ecological transitions that are firmly underway. THIOCRETE® means you are ready for the future.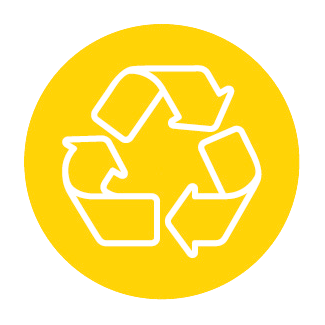 100% circular
The production of sulphur concrete is a physical process of melting and solidification that can be repeated infinitely. This makes sulphur concrete 100 % circular and endlessly reusable in an identical application. Perfect circularity is also guaranteed by using only primary and high-quality raw materials.
No water usage
In sulphur concrete, water and cement are replaced by sulphur. And not even a drop of water is consumed during the production process. Neither as raw material nor as process water during production (e.g. for cooling). Not insignificant, since water is becoming increasingly scarce and precious. Sulphur is used as a new binder, making cement useless.
Long lifespan
Because sulphur concrete is hydrophobic, and so no water can penetrate it, it is physically very stable. Its acid-resistant and water-repellent character, combined with the material's high mechanical strength, guarantees a very high life span, even in the most extreme conditions.
Low CO2 emission
The CO2 emissions of the THIOCRETE® production process are exceptionally low compared to conventional cement concrete and other commonly used materials such as steel, ceramics and plastic. There is a 50-80% reduction in emissions due to the avoidance of cement and the low-energy production process.
Harmless to the environment
Sulphur concrete contains no toxic substances and does not leach out. The various forms of elemental sulphur are also insoluble in cold and hot water. Due to its hydrophobic behaviour, sulphur is even able to bind polluting raw materials and prevent their leaching.
High strength
Sulphur concrete is a high-strength concrete that belongs to the highest strength classes on the market. It is highly resistant to alternating loads ('fatigue').
THIOTRACK®
This is shown by some dynamic tests carried out at the SNCF (National Railway Company of France) test centre. There, it was tested how a test piece made of sulphur concrete reacts under varying loads between 10 and 126 kN, at 5 Hz and this for 3,106 cycles. The mechanical properties remained the same after the test.
Research centre: SNCF Centre d'expertise et d'Essais PSIGT.LVE.T4 de Saint-Ouen (FR)
Tested according to: EN 13230-1/2; EN 13481-2; CT IGEV 003 E
THIOTUBE®
THIOTUBE® drainage pipes are among the highest strength classes on the market. For a DN250mm class 240, this corresponds to a crown pressure resistance of 60 kN/m.
Products made from sulphur concrete are acid resistant from pH 0 to 12, the compound from pH 1 to 12, according to the most extreme tests to which sulphur concrete was subjected for 7 years, in the lab and in practice.
To verify its resistance to biogenic sulphuric acid (BZA) attack, the sulphur concrete was subjected to the TAP test (UGent - Labo Magnel - Prof. Dr. Ir. N. De Belie). In this process, disks were continuously rotated and partially immersed in a bath of acids for 6 weeks. To simulate a mechanical load, in the same cycle, the specimen was brushed in which the reacted material was removed so that the unaffected material was again exposed to the aggressive environment. This gave a picture of accelerated deterioration. These TAP tests are a reference with regard to testing cements for their resistance to BZA. Materials made of sulphur concrete were tested for the following acids: lactic acid, acetic acid and finally sulphuric acid. No deterioration was observed in any of the exposed discs.
Research centre: Labo Magnel (BE - UGent)
Tested according to: TAP testing Prof. Dr. Ir. Nele De Belie
How does sulphur concrete react with lactic, acetic and sulphuric acids?
Sulphur concrete is hydrophobic and therefore water-repellent. Water absorption is barely 0.1%.
This is very low compared to standard cement concrete where these values are between 3 and 8%. This very low water absorption rate protects the material against the penetration of all kinds of liquids and the degradation processes that can result, such as during thaw/frost cycles. In applications where water absorption is not allowed, this material therefore comes in very handy (e.g. in counterweights for overhead lines of railway tracks).
Testing centre: SGS Intron (NL)
Tested according to: NEN EN 12350-2 : 2000 (water absorption); NEN EN 1339 (thaw/frost cycles)
What is the water absorption difference between sulphur concrete and conventional concrete?
Sulphur concrete was tested for both compressive and tensile strength, dynamic e-modulus and creep (1 year), within a temperature range of 20 to 80°C. This was to check its performance when used in hot environments and contact with liquids at high temperatures, etc.
The tests show that sulphur concrete, with prolonged exposure or peak discharges up to 80°C, still retains 95% of its initial strength. Above 80°C, mechanical properties begin to decline with repeated temperature fluctuations. Occasional higher temperatures are permissible if they are short or transient in nature.
Research centre: SGS Intron (NL)
Tested according to: NEN-EN 12390-3, NEN-EN 12390-6, NEN-EN 1992-1-1
A succession of significant temperature fluctuations does not accelerate material performance degradation. This is shown by tests carried out during cycles of 150 days at temperatures between -20°C and 60°C , combined with relatively high humidity.
Testing performed at fire safety specialist WRF in Ghent, Belgium, shows that sulphur concrete qualifies under fire class A2. This means that the material is practically fireproof. It melts only on the surface. The underlying aggregates do not allow the hot pressure points to penetrate deeper.
Research centre: SGS Intron (NL)
Tested according to: SQD (according to Dutch Building Materials Decree)
What is the impact of a heated (280°C, 405°C and 625°C) metal object weighing 1 kg on a sulphur concrete element?
What is the impact of a flame on sulphur concrete?
Due to its very dense structure and hydrophobic behaviour, sulphur concrete is as good as impermeable. At 1 cm material thickness, the material is dense at 1 bar water pressure.
Research centre: in-house
Tested according to: waterproofing test according to NBN EN 1916
THIOTUBE® sewer tubes and their joints are watertight at 1 bar. As the tubes do not absorb water, the physical, mechanical and chemical product properties are 100 % retained.
Running wastewater with potentially abrasive material (sand, stones, etc.) can be very demanding on the wall surface of the products used. Abrasion resistance can be measured using the "Darmstadt tilting channel" according to DIN EN 295-3. With this test device, test specimens in the form of a half-tube are filled with water and a certain gravel fraction. Then the specimen is swinged at an angle of 2 x 22.5°, simulating an accelerated abrasion effect in the central zone of the specimen. This motion is repeated up to 400,000 cycles to then measure the abrasion of the wall surface. Sulphur concrete passed this test and shows similar results to concrete, with the thin sulphur skin wearing away in a first phase followed by a second phase in which the presence of the hard aggregates on the released surface strongly inhibits the abrasion. With vitrified clay, the first phase takes longer due to the additional glaze layer applied. However, once this is sanded away, material loss increases faster than with concrete or sulphur concrete.
Research centre: in-house
Tested according to: Darmstad test in compliance with DIN EN 295-3
Our sulphur concrete THIOCRETE® is completely cement-free. Sulphur is used as a new binder and makes the use of cement pointless.
Perfect vibration resistance
THIOCRETE® is a high-strength concrete that is highly resistant to alternating loads ('fatigue'). This is proven by extensive tests with alternating loads on THIOTRACK® sleepers.
The SNCF test centre carried out dynamic tests to check the sulphur concrete's resistance to changing stresses between 10 and 126 kN, at 5 Hz and for 3,106 cycles. No deterioration of the mechanical properties was observed at the end of these tests.
Research centre: SNCF Centre d'Expertise et d'Essais PSIGT.LVE.T4 de Saint-Ouen (Fr)
Tested according to standards: EN 13230-1/2, EN 13481-2 and CT IGEV 003 E
Frequently Asked Questions
• What is sulphur, where does it come from, is it toxic...?
Sulphur is the chemical element with symbol S and atomic number 16. It is a yellow non-metal. It is a very common natural element both on earth and in the universe. The sulphur used to produce sulphur concrete is a residue from the refining of crude oil and gas. This by-product can be considered a pure raw material and therefore does not need to be mined. Its use as a binding agent in sulphur concrete valorizes the residue. Elemental sulphur is insoluble in water and not harmful to humans or the environment.
• What is circular sulphur concrete?
THIOCRETE® or sulphur concrete is a concrete in which water and cement have been replaced as binding agents by sulphur. The other raw materials (gravel, sand and fillers) are identical to those of conventional concrete. The production process is based on the physical process of melting sulphur at +- 135°C and letting it cool and solidify again after mixing the liquid sulphur with the granules. Because the elemental sulphur in THIOCRETE® technology remains unmodified, this process can be repeated endlessly. As a result, the concrete can be melted an infinite number of times and thus returned to its liquid, workable state, and consequently reused without any loss of value.
• Does THIOCRETE® leach?
Sulphur concrete does not leach.
THIOCRETE® is distinguished from conventional concrete by its chemical resistance from pH 0 to 12 and its hydrophobic character. This makes the concrete virtually impregnable, placing it in the category of high-strength concrete.
• How are products made of THIOCRETE® recycled?
THIOCRETE® is melted after use, making it reusable for identical or new applications, just like all embedded components (in the THIOTRACK® railway sleepers for example). Products are given a second life using minimal heat (around 140°C). THIOCRETE® products ensure their primary function during their lifetime and also enable the storage of raw materials for the second generation.
THIOCRETE® has all the properties for infinite reuse without loss of quality or performance, making it a perfect circular material.
https://debonteinnovation.com/wp-content/uploads/2021/06/Zidis_Beton-Invest_-EXPERIMENT-Circulair-Zwavelbeton_V4.mp4
• Do you want to produce THIOCRETE® yourself?
Ask us for more information about the licensing agreement. Bonte Group engineering services will guide you by transferring innovative technology worldwide.
• Are production sites already operational?
There are several sites in Belgium and Poland where THIOCRETE® products are in production. Contact us for more information.
• Which products have already been developed in THIOCRETE®?
Sewer elements, railway sleepers and counterweights are the products De Bonte Group is marketing today in THIOCRETE®. Further research and development are underway for a wide range of other applications.
• What to do with sulphur concrete residues?
THIOCRETE® is 100% circular and should be returned to the manufacturer. They will then reuse it as a primary raw material in the production of new materials.  After all, THIOCRETE® is not a waste flow, but rather a primary residual flow. For this reason, avoid disposing of residual sulphur concrete to a crushing plant, whether combined with other rubble or not. Should small quantities still be crushed into rubble by a crushing plant, this does not pose any environmental or human health problems.
Contact one of our experts
Joeri Hamal
Denis Coppieters